Build a Chatbot – Automate Your Customer Service‎
Start:

July 9, 2020 10:00 am

End:

July 10, 2020 12:00 pm
Customers today make plans and decisions online.
Chatbots provide an experience like a customer support agent (but better). They are able to guide users through any questions they have, with a lesser amount of time compared to us humans. Chatbots also do not need sleep, hence providing quality support 24/7!
We're talking about automated and fast replies that keeps users engaged which in turn increases customer satisfaction and conversions.
What's great about this Masterclass?
This Masterclass features an exciting way for you to reach out to your customers by building your very own chatbots and deploying them to various platforms.
Build once, deploy everywhere:
Telegram
Website
Whatsapp for business
Facebook messenger
Twitter
Skype
Slack

At the end of this Masterclass, you will be able to:
Understand concepts like pattern recognition and natural language processing
Know effective human-to-computer communication
Build various chatbots using Google's Dialogflow
Integrate your chatbots with an external API
Deploy your chatbots on websites and social apps
Meet your trainer:
Tarun Sukhani is a business and IT professional with over 20 years of experience working in multinational companies in the US, Europe, Asia, South America, and the Middle East.
Actively involved in Web-scale and Data Product Software Development across a variety of industries, he has held a number of different senior development and executive positions including that of CIO/CTO, director, and board member.
He has conducted training as well as facilitated training workshops in Malaysia, Indonesia, Philippines, Thailand, Singapore and various other Asia Pacific countries, focusing in areas of project management, consulting, leadership and strategic management, security, teamwork and other soft skills in addition to Enterprise Computing/Programming, Software Architecture, Big Data, Data Science, and Machine Learning.
He is highly energetic and has a strong passion for developing people.
Who Should Attend:
Business owners who wants to be at the cutting-edge of technology
Startups
Data Science Enthusiast
Job Seekers interested to work remotely with Data Science skills
Freelancers who are looking to build chatbots for companies
Customer Experience Engineers
Graduates or Students interested in a career in Data Science career
Anyone interested to build a chatbot
Machine Learning, Deep Learning and Artificial Intelligence enthusiasts
Mobile developers
Companies who have learned from us: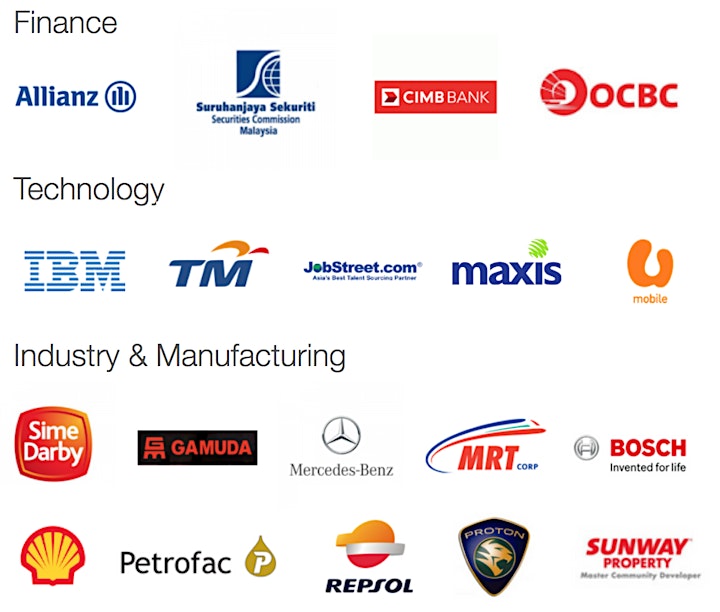 About iTrain
iTrain provides high quality IT training solutions in various technology training products and certification. Established and managed by experienced trainers, backed by government (MDEC) and academia, iTrain's goal is to equip Malaysian companies with the latest technology applications and know-how to give them a leading, globally competitive edge.