Buyer Persona: Your New Weapon to Win More Sales [Free Templates Included]
Start:

August 12, 2020 9:00 am

End:

August 12, 2020 1:00 pm
In a BRAND NEW 4-hour masterclass, digital marketing strategy expert Amir Haghbin will teach you how to create Buyer Personas to amplify your marketing strategy and sales!
"Only 6% of senior executives believe that their companies understand their customers' needs extremely well." – McKinsey & Company
Knowing 'who your customer is' is crucial for unlocking effective marketing strategies. Customers are WHY your business exists in the first place, the north star.  Everything hinges on thoroughly understanding what makes them tick; from designing your products or services line up, to deciding the types of digital marketing or sales initiatives you will run, to refining your targeting tactics and driving real Return on Investments (ROIs).
Key to discovering who your customers are (i.e., their distinguishing characteristics, goals, fears, motivations, challenges, day-to-day activities, etc.) is being able to answer these questions, among others:
Where are they hanging out online?
What marketing messages will compel them to take actions?
What informational gaps will stand in the way of reaching those goals?
What information do they need most to help them reach the next stage?
What content format do they prefer to consume?
What topics will pique their attention?
What their communication preferences are?
What products or services will accomplish their goals?
Why would they choose your company over a competitor?
Why Buyer Persona and Why NOW?
In times of crisis, you cannot afford to exhaust your time and precious dollars on speaking with every Tom, Dick and Harry out there. You need to laser focus your marketing activities instead towards attracting the MOST PROFITABLE customers within your target market (AKA Buyer Personas) that brings your business the biggest ROI.
By laser defining your Ideal Customer, you can better find them, market to them, and be noticed by them. Think of this as the "sniper" vs "shotgun" approach. You're aiming for pinpoint accuracy rather than just one hit, where most of the effort goes by the wayside and is wasted.
How Do I Start?
Crafting data-driven Buyer Personas for your business can feel complex and time-consuming if you're not a seasoned digital marketing strategist. In this Masterclass, you'll learn how to build effective Buyer Personas, step by step, and gain a clear understanding of who your ideal buyers are.
You'll get the tools you need to personalise your marketing messages and start creating engaging campaigns that connect with your best audience on a deeper, more meaningful level. By personalising your marketing message, half the battle (of turning cold traffic into happy buyers and even brand ambassadors) is won!
Masterclass Takeaways and Outcomes:
Avoid the most lethal mistake many marketers and business owners make when developing their marketing strategy
Use Amir's downloadable templates, cheat-sheets, and editing guide to identify your ideal buyers and craft a powerful Buyer Persona that's tailored to your business
Use the Buyer Persona in various aspects of your online marketing activities such as copywriting, content marketing, paid advertising, email marketing, influencer marketing, etc. (with Examples)
Use data-driven tools like Facebook Audience Insights and Google Analytics to test and validate your Buyer Persona's assumptions (with Examples)
Use Facebook Audience to find your ideal buyers on Facebook (with Examples)
Leverage Facebook Lookalike Audiences to reach new people who resemble your best existing buyers (with Examples)
BONUS: If you can't attend LIVE, DON'T WORRY. If you RSVP now, you'll still get the recording!
Your Instructor:
Amir is a seasoned digital media strategist with first-hand knowledge in commercialising his own game-changing technology solution, having co-founded and built a multi-award-winning Fintech startup, CurrenSeek, from the ground up that now has a regional presence in Malaysia and Indonesia.
Amir also serves as co-founder and chief digital strategist of Wepool Sdn Bhd, a boutique digital advertising agency formed to serve early and growth-stage startups and SMEs with their paid search and social media advertising needs. These diverse industry engagements have equipped him with in-depth knowledge of key paid and organic customer acquisition channels, conversion rate and sales funnel optimisation best practices, among others. He's a Certified Trainer that has trained hundreds of marketing professionals, business owners and entrepreneurs from Southeast Asia and the Middle East on the latest digital media strategies and tactics. Amir holds a Bachelor in Engineering (BEng) and an MBA.
Frequently Asked Questions
How do I access the course?
This training will go LIVE on 12th of August at 9am. After that, it'll be an On-Demand training that you can access at any time. Once your payment is submitted, you will receive an email with your login details, where you'll be able to access the training.
Who is this course for?
If you are feeling your marketing campaigns are falling on deaf ears?
Despite applying all the common "best practices…", you're getting mediocre results from your online marketing campaigns. If you're struggling to appeal to your audience on a deeper level that inspires trust and builds a sense of authority in your market…This training is for you!
Entrepreneurs
Business owners and executives
Freelancers and solos
Agencies and consultancies
 Companies who have learned from us: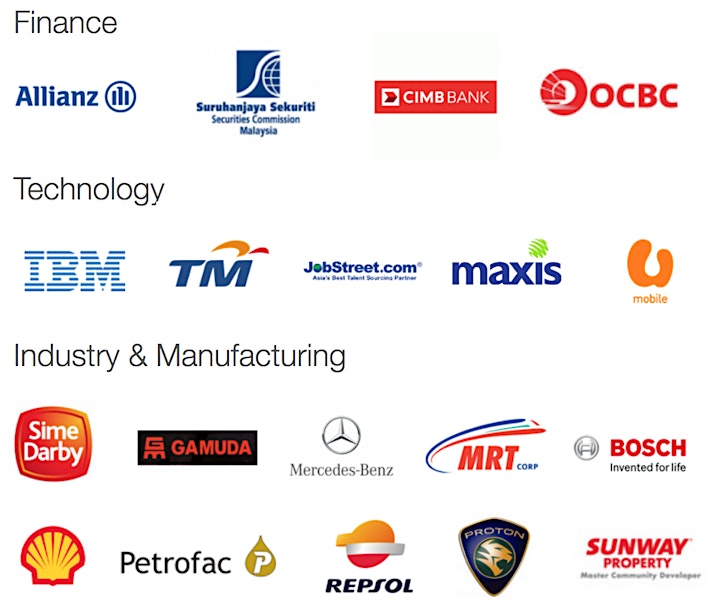 About iTrain
iTrain provides high quality IT training solutions in various technology training products and certification. Established and managed by experienced trainers, backed by government (MDEC) and academia, iTrain's goal is to equip Malaysian companies with the latest technology applications and know-how to give them a leading, globally competitive edge.